Fall Harvest Muffins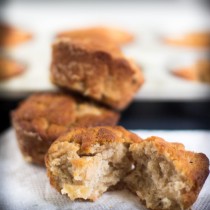 3 small apples
2 tbsp brown sugar
1 tsp cinnamon
1 egg
1 cup pancake mix
½ cup vegetable oil
Pre-heat oven to 375 F
Peel apples and remove the center, then cut into small squares (or close enough, nobody is perfect)
In a medium pan, cook apples, sugar and cinnamon for 5-6 minutes in medium heat.
In a medium bowl, slightly beat egg, then add the pancake mix and oil.
Add the cooked apples and mix all together.
Grease a muffin tin and add batter.
Bake at 375 F for 10-12 minutes or until golden brown.